The SL1100. A cost effective and powerful communications solution for Small Business
The SL1100 can make your employees more reachable, more responsive and more productive through smart features along with rich functionality expected of much larger systems, while not requiring your business to deploy expensive data equipment that you otherwise don't need.
NEC's SL1100 offers a competitive starting price and a low cost terminal range meaning you don't need a large upfront investment to get your business communications up and running quickly. The feature rich solution provides Auto Attendant and voicemail at no extra cost, ideal for small companies with limited budgets. Plus with the option to choose from multiple carrier interfaces including SIP, the SL1100 lets you take advantage of VoIP technology to reduce your call costs. Should your business grow over time the SL1100 has the flexibility to grow with you, as an entirely scalable solution with the option to expand up to a maximum of 40 extensions.
NEC's SL1100 also allows you to increase employee productivity with powerful features such as conference, Automated Attendant, Call Forwarding and much more that help you communicate and work more effectively. And with a choice of either IP or digital technologies, the
In today's highly competitive business environment, effective and reliable communications are critical to a company's success. Therefore, it is important that you invest in a unified communications solution that allows you to take advantage of the latest productivity-enhancing IP applications that can deliver increased performance throughout your organisation – that solution is NEC's SL1100 Communications System.
This unique platform is the ideal solution for any small business. The SL1100 makes your team more reachable, responsive and productive.
Powerful communications with a small business price tag
Only pay for what you need, with an entirely scalable solution
Lower operational costs considerably by making smarter use of your communications
A range of remote/home office options to help lower brick and mortar
costs
Intuitive features that the whole team can use, without the need for training.
Desktop phones, wireless handsets and applications include shortcuts that speed up working processes.
Time-saving app
• Use your mobile phone to stay connected through your office number, from anywhere.
DECT wireless communications maximizes reachability from anywhere on the premises.
Built-in conferencing for business meetings reduces travel costs.
Never miss important messages with enhanced voicemail to keep you up to date.
Work Smarter – SL Desktop Suite
Intuitive applications to increase efficiency and productivity NEC's SL Desktop Suite delivers to you an integrated unified communications (UC) solution that enhances your organization's productivity and collaboration.
This productivity-boosting solution offers you key functions that deliver excellent business benefits.
Manage Communications from Your Desktop PC
The SL Desktop Suite's Desktop Client is an intuitive application providing full call control from your PC screen. With just a few clicks of your mouse, you can click-to-dial, manage calls and look up contacts. It also easily integrates with your Microsoft® Office Outlook® contacts to provide.
Support for Remote and Mobile Workers
The SL Desktop Suite's Softphone is a portable telephony application, offering you system phone functionality from your laptop, from wherever you are; ideal for remote and mobile workers. With the Softphone, your workers will have the communications tools they need to work efficiently and productively, whether they're in the office or on the road.
Integration with Third Party CRM Systems
The SL Desktop Suite's CRM integration offers businesses seamless application access to leverage and manage their information more efficiently. When a call is received from a customer in your CRM database, this integration provides a pop-up with their information which enables you to offer them better service. The SL Desktop Suite integrates with Salesforce®, Time Matters®, Tiger Paw®, Gold Mine®, ACT® and browserbased CRM systems.
The SL1100's Contact Center software allows up to two Supervisors to monitor the real-time activity of the system's ACD, such as Agent State and ACD Queue Status, using their PC's. They can also run ACD/Contact Center activity reports, such as Agent Call Summary, Abandoned Calls, etc
Stay connected while on the move
Remain reachable via a single number from anywhere
With Mobile Extension, you can take your office number with you when
you're on the road. It provides you access to system features such as
caller ID, call transfer and voicemail and it really is like being in the office,
whether you're traveling or sitting in traffic.
– Company specialists can now be empowered to maintain high service standards when out of the office since they remain reachable from any location.
– Salespeople can use Mobile Extension to ensure that even when they're on the road, they never miss a call which could lead to a lucrative business opportunity.
– With DECT handsets for wireless voice communications, you can keep in-touch with customers and colleagues from any in-building location.
Extend the capabilities of your smartphones . The SL1100 uMobility Wi-Fi Client functions as a Standard SIP station on Blackberry®, iPhone® and Android™ smartphones. The uMobility Wi-Fi Client allows you to:
• Answer incoming calls to your office telephone directly from your
smartphone.
• Make calls from your smartphone using your office telephone system. Your office caller ID is displayed to the caller – masking your personal cell phone number.
• Talk on your smartphone utilizing a Wi-Fi hotspot at the office, at home or even at a public hotspot – and not use any of your cellular minutes.
• Easily Hold and Transfer calls to other stations within your office telephone system.
• Access your work Voicemail directly from your smartphone.
Advanced features for enhanced communications
InMail is more than just a regular voicemail box. Packed with powerful
business features, this is a solution to make keeping up to date easier than
ever. It offers Message Notification to your desktop phone, home office or
mobile phone to allow you to monitor your mailbox effortlessly from wherever
you are. You can even choose to receive email notifications with the message included as an audio attachment. No matter what you're up to, you can have the right recorded message to match. With three personalized greetings, you can select the one most appropriate depending on your availability or the time of day.
Additionally, the Call Record feature enables you to keep track of important discussions. Recordings can be emailed to colleagues and stored for quick
reference at a later time.
Automatic Call Distribution (ACD)
Handle incoming calls with ease. The SL1100's Automatic Call Distribution (ACD) efficiently routes callers based on pre-established criteria. ACD is often found in offices that handle large volumes of incoming phone calls from callers who have no need to talk to a specific person, but who require assistance from any of multiple persons at the earliest opportunity.
When all agents are busy assisting callers, the outside party can listen to periodic Announcement messages while waiting for an agent to become free.
Callers can also overflow to another destination so that outside callers are not
left waiting on hold for an extended period of time, making each interaction
between your business and your customers quick and easy.
Extend the reach of your communications.
With the SL1100's networking capabilities, you can extend the reach of your communications to remote offices and mobile workers and ensure that your business can collaborate effectively. You can eliminate duplication and improve efficiencies by transparently sharing a single voicemail and intercom system.
It also enables you to share trunks and transfer calls easily.

• Expandable to a maximum of 40 extensions
• PSTN, Basic Rate ISDN, Primary Rate ISDN and SIP trunks
• Digital/Analogue/IP extensions
• Interface to an on-premise alarm system
• Door phone/door striker to open the door to your business
• Automated Attendant allows incoming calls to be directed to their destination without human assistance
• Voicemail with email notification
• Dial-in 16 party conference bridge
• Ring groups allows you to associate extensions to a group of telephones
• Music on hold and background music
• Mobile extension
• Built in Hotel/Motel features
• 12 or 24 key terminals with headset connection
• Simple installation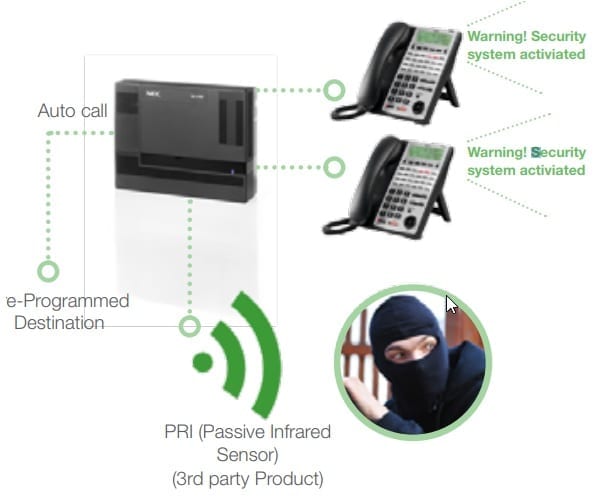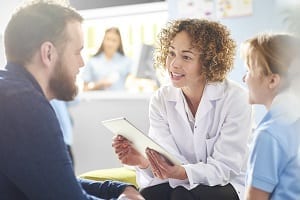 Healthcare and Medical Centres 
Doctors' offices, surgery centers and other healthcare organizations receive a high volume of frequent inquiries.
• Customizable pre-recorded messages are played to callers, giving them the option to route themselves to the right department or leave a message for prescription refills, reducing the need for a receptionist to handle every call.
• Eliminate the expense of an answering service with email or external message notifications to appropriate personnel during off hours.
Ensure your guests have a memorable stay by providing them access to personalized services that enhance their experience.
• Guests can customize services from guestroom messaging, wake-up calls and do not disturb plus have one-touch access to services they want.
• Employees can check guests' real-time status and provide required service immediately.
Want more information on the NEC SL1100 Handsets. Find it all here.